I would have created many separate posts for the following news, but unfortunately time is short. So here is a list with some updates about open source software and hardware on the IoT World:
— Node-RED is currently at version 0.4.0 (updated:) 0.5.0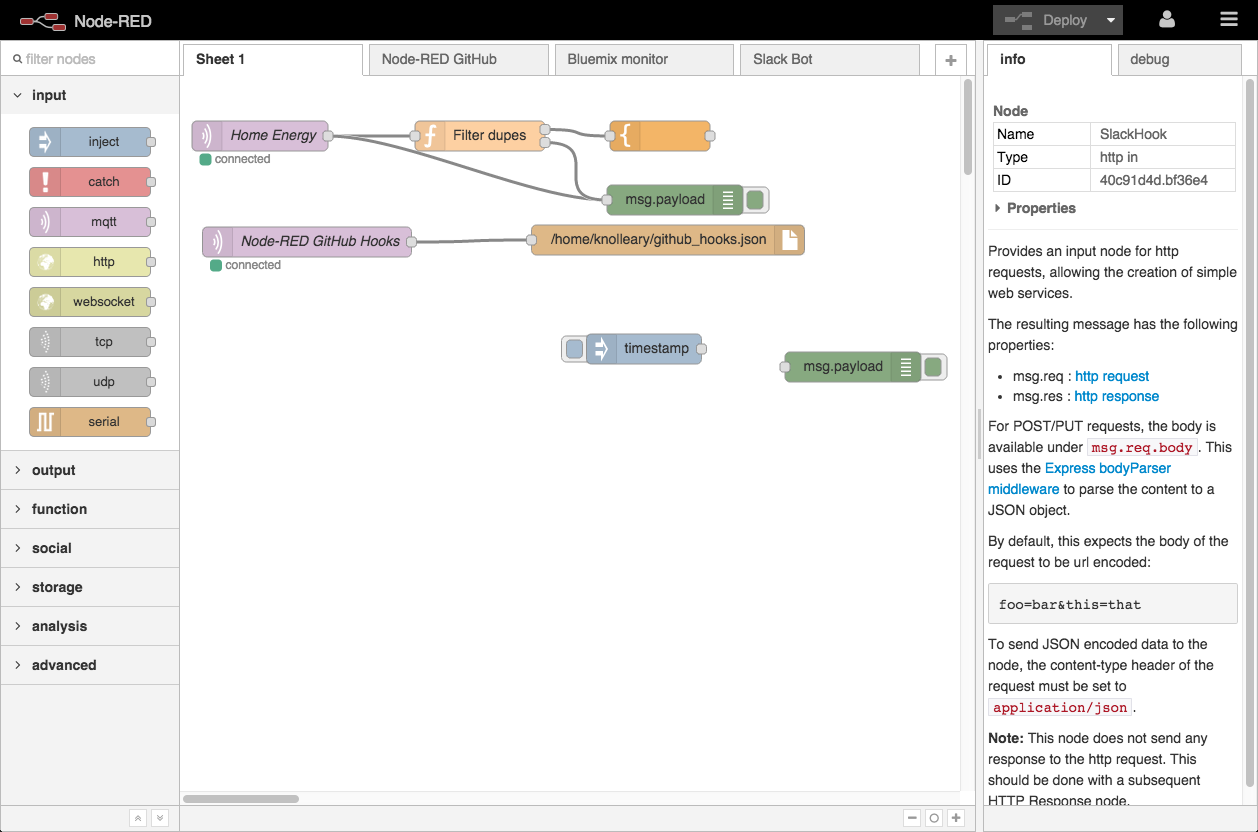 It features new configuration options for npm updates and new nodes (helpful when installing a new Node-RED version), new graphical improvements and more. Also new nodes have been added in the node-red-nodes repository, including a wemo node (for controlling Belkin Wemo sockets and switches), as well as two Philips Hue nodes (see earlier post). You can check the new nodes here.
— openPicus new software and hardware releases
openPicus has recently released the FlyportPRO which targets more professional users. It comes in a very small factor, for professional users that want to integrate it directly to their product. More information here.
Flyport Light has been introduced at a very competitive price for projects that do not require any connectivity.
There is a new version 2.5 of the IDE.
MQTT will become available as a library for the Flyport as well!
Finally, a great Xmas project is hosted at the FCO Airport in Rome, powered by Flyport! There is an interactive Christmas tree that you can control the lights from your browser! More about it here.
— Arduino Intel Galileo on MacOSX
As you probably already know the Intel Galileo has been released. Here is an interesting post/step-by-step tutorial on how to use the board on a Mac.
— The 'Open Informant' wearable badge
A very interesting open source project has been developed by Superflux for Wearable Futures 2013 Conference. The concept behind the project is to visualise communication that may contain NSA trigger words. A smartphone app is used to scan through your messages and identify keywords that could trigger a NSA investigation on you! The words are then displayed on a e-ink wearable display, powered by an Arduino Mini and BLE. More info here.
— The ThingFul Project
You probably have heard of ThingFul project by Usman Haque. As stated on their website, "Thingful is a discoverability engine for The Public Internet of Things, providing a geographical index of where things are, who owns them, and how and why they are used.". It is an interesting concept, although to my opinion, IoT object and service discovery is not that simple, and for sure an API would be more useful for discovering and identifying objects.
For sure it is worth trying registering your devices, hopefully there will be more features revealed/enabled in the near future.
— Building your own IoT service with open source tools
On December 12th I was invited to speak at the BDigital IoT Forum in Barcelona. I presented the concept of COMPOSE european project and more specifically, how makers and entrepreneurs can benefit from open source components of the project for building their own IoT services and applications. You can check the slides of my presentation here.